Category: Web Services
Posted by Biederman Blog Editors | Jan 8, 2018 | Copyright, Film, Intellectual Property, International, Licensing, Privacy, Procedural, Regulatory, Social Media, Sports, Talent Representation, Technology, Television, Video, Video Games, Web Services | 0 |
Uncle Sam took out his regulatory stick recently and rapped the knuckles of a Hong Kong toy...
Read More
by Biederman Blog Editors | Jan 8, 2018 | Copyright, Film, Intellectual Property, International, Licensing, Privacy, Procedural, Regulatory, Social Media, Sports, Talent Representation, Technology, Television, Video, Video Games, Web Services | 0 |
The Media Law Resource Center and Southwestern Law School have hosted for 15 years the...
Read More
The U.S. Ninth  Circuit Court of Appeals has affirmed a lower court's standing order barring...
Read More
Copyright violations can occur too readily and for makers' improper advantage when razzle-dazzle...
Read More
The industry headlines tell a persuasive tale. Netflix: The most feared force in Hollywood?...
Read More
Appellate judges say trial, facts needed to determine if web service's claim for 'safe harbor'...
Read More
Justices decline case contesting net providers' 'safe harbor' protections for pre-'72 music...
Read More
In its long-running bid to transform broadcasting, controversial firm fails to persuade judges to...
Read More
Federal judge tosses suit over music video that was pulled down, then re-posted, and had its view count reset Performers who leap on to YouTube may be visually savvy, marketing smart, and outstanding early adopters of...
Read More
Out with the old, in with the new: Ajit Pai, President Trump's new chair of the Federal...
Read More
A streaming company that has tried to seize a higher ground, taking Hollywood movies from discs and "cleaning" the films of pornography, nudity, and violence and then providing them online to its customers, has itself acted in...
Read More
In what once was the final frontier, the actions of some one-time loyalists started to raise huge concerns among the rulers of the Great Empire of Hollywood. They feared that rebel forces had aligned and had started to take...
Read More
This guest post was contributed by a blog alumna, and a newly graduated Southwestern juris doctor,...
Read More
Vine, a social media website acquired by Twitter, is a popular technology among millennials. They...
Read More
Where's the beef? For audience members at a recent continuing legal education program put on...
Read More
As cloud-based music lockers have begun entering the mainstream, particularly embraced by major...
Read More
The Social Science Research Council has released its highly anticipated 440-page report,...
Read More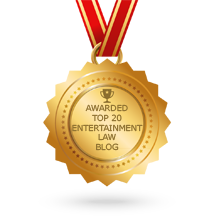 The Biederman Blog is now ranked NUMBER ONE on Feedspot's Top 20 Entertainment Law blogs (May 2018). It is very exciting to top this list. We are extra proud of number six - Entertainment Law Offices of Gordon P. Firemark. Mr. Firemark graduated from Southwestern in 1992, and is a top entertainment blogger and webinar presenter in addition to being a world class entertainment attorney!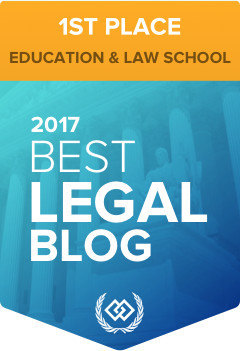 This is Southwestern Law School
—a history of public service, innovative teachers, brilliant scholars, and trailblazing alumni.
Events Calendar