Category:
Video Games
This guest article is a courtesy cross-post from the social media of the Wolk & Levine law...
Read More
While legions of fans will focus with zeal and dread to see if LeBron James can lead the Cleveland...
Read More
Uncle Sam took out his regulatory stick recently and rapped the knuckles of a Hong Kong toy...
Read More
by Biederman Blog Editors | Jan 8, 2018 | Copyright, Film, Intellectual Property, International, Licensing, Privacy, Procedural, Regulatory, Social Media, Sports, Talent Representation, Technology, Television, Video, Video Games, Web Services | 0 |
The Media Law Resource Center and Southwestern Law School have hosted for 15 years the...
Read More
He's a popular soccer player, a star in the English Premier League with millions of...
Read More
by Victoria Carthorn | Oct 22, 2017 | Copyright, Events, Film, Intellectual Property, Licensing, Performance, Q & A, Sports, Talent Representation, Technology, Uncategorized, Video Games | 2 |
E-sports — aka electronic sports, aka competitive/professional video gaming — offers a novel and...
Read More
U.S. judge denies summary judgment in video gaming dispute, in which he dissects unitary vs....
Read More
If plaintiffs aren't clever enough to present the courts with the basics, notably the...
Read More
by Biederman Blog Editors | Nov 23, 2016 | Copyright, Film, Intellectual Property, International, Licensing, Music, Talent Representation, Television, Video, Video Games, Writing | 0 |
Southwestern Law School has announced that faculty members Neil Ollivierra and Robert Lind will serve as the new co-directors of the nationally recognized Biederman Entertainment and Media Law Institute. Lind is a Southwestern...
Read More
In our 'Oh, Really?'  feature, the Biederman Blog's editors and alumni— voracious consumers of...
Read More
For centuries, the human race has shown an affinity for body art, often capturing works of art onto the human "canvas." From tribesmen to notable celebrities today, tattoos have persisted in culture as a personal identifier....
Read More

Warning: count(): Parameter must be an array or an object that implements Countable in /home/customer/www/biedermanblog.com/public_html/wp-content/themes/Extra/includes/template-tags.php on line 54

The movie studios, television networks, video game makers, and big-time music businesses on both coasts may wish to take note of a curious case playing out in the nation's heartland. It's raising some novel issues...
Read More
With everyone from Hollywood producers to video game makers poring over the headlines for compelling people stories to convert into hot properties or products, California's right of publicity law long has sought to:...
Read More
This guest post was written by Travis J. Sabaitis, a student in the Entertainment Law and Web 2.0 course at Southwestern Law School.  It isn't even Halloween yet, but already for those in the entertainment industry, a...
Read More
When legendary Entertainment lawyer Bert Fields recently addressed the Harvard Law Association at the Beverly Hills Bar, he, of course, brought down the house, delighting his audience with his comments on an array of topics. His...
Read More
Onetime college athletes seemed to have gotten a big win over broadcast networks and video game makers last year when a federal judge in California ruled that the NCAA could not keep athletes from licensing their own names and...
Read More
The U.S. Trade Representative recently released its annual Notorious Market List, which calls out markets where the infringing of intellectual property is most problematic and where markets themselves enable "substantial...
Read More
Who owns the technology that now is intrinsic to our daily lives? Chances are, it is not you. While users may own the physical devices, the technology that drives them, the intellectual property that they rely on, and their...
Read More
You paid a nice chunk of change and you do own that Entertainment-related intellectual property, right? It may sound familiar to fans of digital music who sought to resell their "used" collections through the online...
Read More
So you're a Entertainment Law litigator and you get a case in which the facts seem on your side and the monetary damages that might follow could sound, well, juicy. As a recent case involving a rap song video game shows,...
Read More
While video gamers can go on outlandish binges of play — take the fatal, 50-hour ordeal undertaken on  Aug. 5, 2005 by Seung Seop Lee — can someone pursue legal action, asserting harm from another's video-game...
Read More
The devil's in the details — and so was a federal judge's recent decision, rejecting a claim by some impatient gamers, infuriated that they had to wait, gosh, two whole doggone weeks, before they could play...
Read More
The trend in entertainment in recent years has been for movies to be based on actual people and actual events, consider such titles as Fruitvale Station, Lone Survivor,and Wolf on Wall Street .  As Variety notes:...
Read More
Envision the big fellow, hands waving, he's a little wheezy and loud as he pronounces: "So this guy goes this way, and then this one that way, and, everyone's running around and… Boom! Suddenly you have...
Read More
Amanda Lewis, an ex-employee of Activision Blizzard, has been "WOW'd" by the loss of her recent federal copyright infringement suit against the video-game publishing powerhouse. Activision, along with co-defendant, Blizzard...
Read More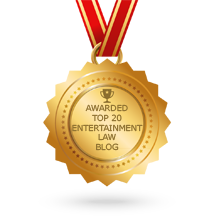 The Biederman Blog is now ranked NUMBER ONE on Feedspot's Top 20 Entertainment Law blogs (May 2018). It is very exciting to top this list. We are extra proud of number six - Entertainment Law Offices of Gordon P. Firemark. Mr. Firemark graduated from Southwestern in 1992, and is a top entertainment blogger and webinar presenter in addition to being a world class entertainment attorney!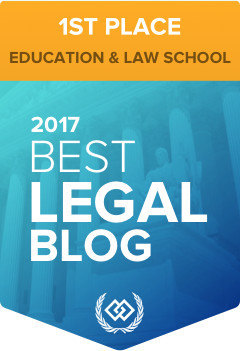 This is Southwestern Law School
—a history of public service, innovative teachers, brilliant scholars, and trailblazing alumni.
Events Calendar