Category:
Trademark
Nathan Apodaca, also known as 420doggface208 on the popular social media video site TikTok,...
Read More
This guest article is a courtesy cross-post from the social media of the Wolk & Levine law...
Read More
William Leonard Roberts II has kept lawyers and judges busy with his apparent identity crisis,...
Read More
Literary history's littered with simply awful book titles: Jane Austen, for example,...
Read More
To the imaginary denizens of Bikini Bottom, including cartoon legend SpongeBob SquarePants, the...
Read More
Rearden, a high-powered computing company that has sought to establish its creative reputation in...
Read More
Ruby, my dear, the man himself might have said 'Round midnight, these cats aren't...
Read More
If Uncle Sam's halls of civil justice weren't crowded enough with growling  two-legged...
Read More
Thomas McClary, Lionel Richie, William King, Walter Orange, and other students from...
Read More
He's a popular soccer player, a star in the English Premier League with millions of...
Read More
Empire — say the word aloud and it conjures multiple pop-culture references, many from the movies....
Read More
With billions of dollars at stake, celebrities' lawyers have been beating down the door at a...
Read More
With the U.S. Supreme Court recently deciding in the Star Athletica v. Varsity Brands case that...
Read More
For Coachella and other lucrative live music events, there's no fiddling around in enforcing...
Read More
The southern rockers in The Marshall Tucker Band may be singing the blues. That's because the musicians in the legendary, long-running, and oft-reconstituted band had their trademark lawsuit against their publishing...
Read More
Cartoon eatery wins mark protection With its corps of intellectual property lawyers, Viacom, the...
Read More
If you're looking for a way to stay up to date in easy, convenient fashion with key...
Read More
The solemn, esteemed appellate courts don't get to tell parties to just buzz off, of course....
Read More

Warning: count(): Parameter must be an array or an object that implements Countable in /home/customer/www/biedermanblog.com/public_html/wp-content/themes/Extra/includes/template-tags.php on line 54

Four white men, two white women, a Latina, and an African-American soon will decide how blunt, vulgar, and racist trademarks in the United States may be. This esteemed, older, and not necessarily greatly diverse group will...
Read More
Mention the appellation Westsiders to those who know well the self-proclaimed entertainment capital of the world, and heads nod in knowing acknowledgement: Yes, those who reside in Los Angeles, west of La Cienega Boulevard, are,...
Read More
Robert D. Davis, a rapper who on stage partly went by the moniker Rizzy and more, won't be rolling any longer with references to a luxe automobile brand. That's because a federal judge in New Jersey has ruled...
Read More
Empire, Twentieth Century Fox's series, has made headlines since its January, 2015, debut for helping to revitalize television. With more viewers cord-cutting (with its legal risks),  TV networks have scrambled with varied...
Read More
I am going to admit my secret shame. I am a Washington Redskins fan. My father's family hails from the District, and his grandfather had season tickets at one point. With the woeful lack of a LA football team (for now) the Skins...
Read More
This guest post was written by Anahit A. Pogosyan, a Juris Doctorate candidate in Southwestern's Entertainment Law and Web 2.0 course: GoDaddy, go, but Oscar, please stop, the U.S. Ninth Circuit Court of Appeals has said....
Read More
Call this a surprising coda for an Asian-American dance rock band involved in a long-running effort to secure a federal trademark registration for its name:  The Slants. A federal appellate court has taken it on its own accord...
Read More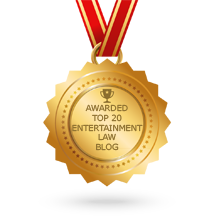 The Biederman Blog is now ranked NUMBER ONE on Feedspot's Top 20 Entertainment Law blogs (May 2018). It is very exciting to top this list. We are extra proud of number six - Entertainment Law Offices of Gordon P. Firemark. Mr. Firemark graduated from Southwestern in 1992, and is a top entertainment blogger and webinar presenter in addition to being a world class entertainment attorney!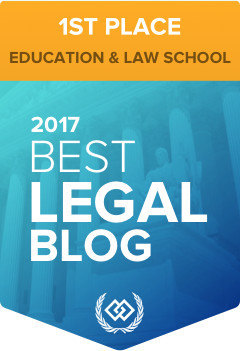 This is Southwestern Law School
—a history of public service, innovative teachers, brilliant scholars, and trailblazing alumni.
Events Calendar