Category: Sports
Posted by Biederman Blog Editors | Jan 8, 2018 | Copyright, Film, Intellectual Property, International, Licensing, Privacy, Procedural, Regulatory, Social Media, Sports, Talent Representation, Technology, Television, Video, Video Games, Web Services | 0 |
Along with major media and online information enterprises, millions who merrily apply a feature of...
Read More
While legions of fans will focus with zeal and dread to see if LeBron James can lead the Cleveland...
Read More
by Biederman Blog Editors | Jan 8, 2018 | Copyright, Film, Intellectual Property, International, Licensing, Privacy, Procedural, Regulatory, Social Media, Sports, Talent Representation, Technology, Television, Video, Video Games, Web Services | 0 |
The Media Law Resource Center and Southwestern Law School have hosted for 15 years the...
Read More
He's a popular soccer player, a star in the English Premier League with millions of...
Read More
by Victoria Carthorn | Oct 22, 2017 | Copyright, Events, Film, Intellectual Property, Licensing, Performance, Q & A, Sports, Talent Representation, Technology, Uncategorized, Video Games | 2 |
E-sports — aka electronic sports, aka competitive/professional video gaming — offers a novel and...
Read More
With federal copyright laws holding sway, online sales are acceptable of prized photos of...
Read More
Out with the old, in with the new: Ajit Pai, President Trump's new chair of the Federal...
Read More
If plaintiffs aren't clever enough to present the courts with the basics, notably the...
Read More
Vine, a social media website acquired by Twitter, is a popular technology among millennials. They...
Read More
I am going to admit my secret shame. I am a Washington Redskins fan. My father's family hails from the District, and his grandfather had season tickets at one point. With the woeful lack of a LA football team (for now) the Skins...
Read More
He has insisted all along the way that his long legal battle was all about the power and pride of...
Read More
Onetime college athletes seemed to have gotten a big win over broadcast networks and video game makers last year when a federal judge in California ruled that the NCAA could not keep athletes from licensing their own names and...
Read More
Steve "The Wild Thing" Ray, the popular professional wrestler with the shoulder-length golden locks, has gotten thrown out  of the legal ring, again. The U.S. Court of Appeals for the Eighth Circuit of Appeals has tossed the...
Read More
As the San Antonio Spurs and Manny Pacquiao could well advise basketball legend Michael Jordan, even champions don't win every contest. Jordan himself discovered this off the hard courts and in a court of law recently,...
Read More
Faculty adviser to Southwestern's International Law Society, Professor Robert E. Lutz (left) has...
Read More
The WWE (World Wrestling Entertainment, Inc.), like all big time entertainments like the NFL Super Bowl, College Football Championship games, and Beyonce concerts, suffers from counterfeit merchandise sales at its shows and live...
Read More
Baseball is back and with  opening day officially launched on Monday, fans of  the Detroit Tigers, Philadelphia Phillies and Seattle Mariners were not the only sports enthusiasts  with reason to celebrate. Warner Bros. scored a...
Read More
Let's click on the instant replay about a lawsuit filed by a photographer against Sports Illustrated, the subject of the photograph, Desmond Howard, and other companies the shooter claimed had used his photograph without...
Read More
When a Chicago grocer sought to elbow into a Michael Jordan moment and score points for itself, the basketball superstar showed that he could throw down in a court of law as well as on the hard wood, getting an appellate court...
Read More
It will be a super Sunday for more than just Seahawks and Broncos: For those focused on intellectual property protection — hello, Entertainment Law practitioners — it's worth looking at how vigorously the...
Read More
In a time of year when the big stakes contest for many is the Superbowl and the NFL's Richard Sherman seems to have garnered more online buzz than any Seahawk could stuff in its bill, the U.S. Supreme Court has said it...
Read More
Well, yeah, it's Friday, and the most overpowering issue to be dealt with may be tamping down the urge to hit that door to flee for the weekend. But here's something legal and a little strong — or at least the...
Read More
In a pair of lawsuits filed by former athletes against gaming company Electronic Arts, let's call the score tied, with appellate judgments recently decided in favor of each of the parties. The U.S. Court of Appeals for the...
Read More
The First Amendment can't bowl over the publicity rights of a former Rutgers quarterback when it comes to his depiction in a video game: The U.S. Court of Appeals for the Third Circuit, in a case closely watched by...
Read More
WWE, the entertainment wrestling giant, couldn't smack down its opponent in a Texas court, as it squared off with the songwriter Papa Berg to get his copyright infringement lawsuit dismissed.  A U.S. District Court in...
Read More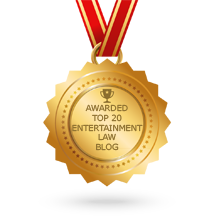 The Biederman Blog is now ranked NUMBER ONE on Feedspot's Top 20 Entertainment Law blogs (May 2018). It is very exciting to top this list. We are extra proud of number six - Entertainment Law Offices of Gordon P. Firemark. Mr. Firemark graduated from Southwestern in 1992, and is a top entertainment blogger and webinar presenter in addition to being a world class entertainment attorney!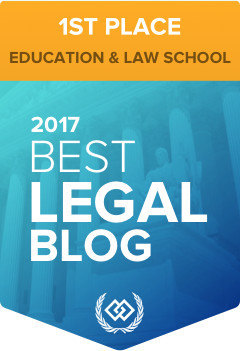 This is Southwestern Law School
—a history of public service, innovative teachers, brilliant scholars, and trailblazing alumni.
Events Calendar