Category: Social Media
Posted by Biederman Blog Editors | Jan 8, 2018 | Copyright, Film, Intellectual Property, International, Licensing, Privacy, Procedural, Regulatory, Social Media, Sports, Talent Representation, Technology, Television, Video, Video Games, Web Services | 0 |
Johann Sebastian Bach may have died 268 years ago, but does legal discord still prevail over the...
Read More
by Biederman Blog Editors | Jan 8, 2018 | Copyright, Film, Intellectual Property, International, Licensing, Privacy, Procedural, Regulatory, Social Media, Sports, Talent Representation, Technology, Television, Video, Video Games, Web Services | 0 |
The Media Law Resource Center and Southwestern Law School have hosted for 15 years the...
Read More
He's a popular soccer player, a star in the English Premier League with millions of...
Read More
Vine, a social media website acquired by Twitter, is a popular technology among millennials. They...
Read More
Oh, that baby never seems to stop dancing, does he? The U.S. Ninth Circuit Court of Appeals, en banc, has released an amended opinion and dissent in the "Dancing Baby" case aka Lenz v. Universal Music Corp, which this blog has...
Read More
When a cartoonist decides to horse around, must a mammoth corporation react as if an online site is a horse of a different color, and whinny to the jest, nay, nay, neigh? With the Entertainment industry seeking to protect its...
Read More
The world has heard an earful from Marshall Bruce Mathers, the recording artist also known as Eminem aka Slim Shady. Since he broke out in the rap and hip hop scene as a pale poet from Motown with lots to say, Mathers also has...
Read More
In 'Oh, Really?' the Biederman Blog's editors — voracious consumers of all matters pop culture — cast a curious, skeptical, fun and smart end-of-the-week eye on popular productions, sharing their keen observations about legal...
Read More
There's no doubt that events like Comic Con and Comikaze build fans' frenzy for superheroes,...
Read More
A U.S. District Court in New York has done a double-take on its Agence France Presse v. Morel decision handed down in January. Granting a motion of reconsideration, the court clarified its previous ruling to reflect that...
Read More
Podcasters, beware: a company that owns a patent for the podcasting format may have its sights on you — or at least it is taking on commercial firms that host your work for using technology they've legally...
Read More
Five days to come up with $1 million? It's not the log line for a movie. Those are the terms of the settlement agreement between the Federal Trade Commission and the operator  of fan websites for artists such as Justin...
Read More
If that boulder fell away from the cave door and you're finally realizing that, as Bob Dylan propounded — that the "Times, they are a-changin" — the New Yorker has recently offered its stately, looong look at...
Read More
When entertainment lawyers venture into cyberspace,  at what time of day do they do so? Where online do they go and what matters to them when they get to select sites? The editors of the Biederman Blog, as part of their research...
Read More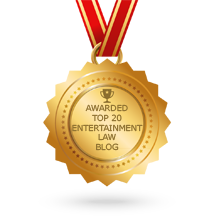 The Biederman Blog is now ranked NUMBER ONE on Feedspot's Top 20 Entertainment Law blogs (May 2018). It is very exciting to top this list. We are extra proud of number six - Entertainment Law Offices of Gordon P. Firemark. Mr. Firemark graduated from Southwestern in 1992, and is a top entertainment blogger and webinar presenter in addition to being a world class entertainment attorney!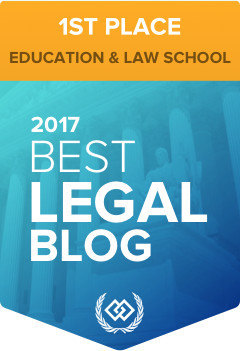 This is Southwestern Law School
—a history of public service, innovative teachers, brilliant scholars, and trailblazing alumni.
Events Calendar