Category:
Right of publicity
Right of publicity
Top Rated
The King of Pop may have died a decade ago but his legacy of litigation lives on, as a California...
Read More
Ah, so it is Tinsel Town true: Even icons of the silver screen can take a contrarian view of a...
Read More
The notorious criminal Henry Hill, as played by actor Ray Liotta, once summarized a key wiseguy...
Read More
Ruby, my dear, the man himself might have said 'Round midnight, these cats aren't...
Read More
If Uncle Sam's halls of civil justice weren't crowded enough with growling  two-legged...
Read More
He's a popular soccer player, a star in the English Premier League with millions of...
Read More
by Victoria Carthorn | Nov 6, 2017 | Copyright, Film, Intellectual Property, Licensing, Music, Performance, Right of publicity, Talent Representation, Technology, Video | 0 |
Sadly, they're long gone — but, no wait, they're back! Some pop musical legends have...
Read More
With federal copyright laws holding sway, online sales are acceptable of prized photos of...
Read More
Appellate judges say trial, facts needed to determine if web service's claim for 'safe harbor'...
Read More
Bitter battle by Marilyn Monroe estate to protect her legacy may have unforeseen consequences for...
Read More

Warning: count(): Parameter must be an array or an object that implements Countable in /home/customer/www/biedermanblog.com/public_html/wp-content/themes/Extra/includes/template-tags.php on line 54

With everyone from Hollywood producers to video game makers poring over the headlines for compelling people stories to convert into hot properties or products, California's right of publicity law long has sought to:...
Read More
This guest post was written by Sylvanna Le, a 2L enrolled in Southwestern Law School's Entertainment Law and Web 2.0 course: She's a papal headline performer and has been crowned by critics as the Queen of Soul. But...
Read More
He has insisted all along the way that his long legal battle was all about the power and pride of...
Read More
When legendary Entertainment lawyer Bert Fields recently addressed the Harvard Law Association at the Beverly Hills Bar, he, of course, brought down the house, delighting his audience with his comments on an array of topics. His...
Read More
Onetime college athletes seemed to have gotten a big win over broadcast networks and video game makers last year when a federal judge in California ruled that the NCAA could not keep athletes from licensing their own names and...
Read More
As the San Antonio Spurs and Manny Pacquiao could well advise basketball legend Michael Jordan, even champions don't win every contest. Jordan himself discovered this off the hard courts and in a court of law recently,...
Read More
Select musicians cross genres and generations and their inspirational messages resonate widely, such as the great Bob Marley's mantra to "love the life you live, live the life you love." While the late reggae master could...
Read More
When an ambitious teen from Down Under travels to the United States to launch a career in a rough-and-tumble part of the music business, the results aren't always pretty, as the artist known as Iggy Azalea has discovered....
Read More
The true life story of Chris Porco, a University of Rochester student convicted of killing his father and attempting to kill his mother, seemed like something out of a movie. The story was so horrific that it drew national...
Read More
When hip hop artist, 50 Cent, first hit the music scene, many joked about his name and thought he would not last. But it looks like the joke's on them as "50" has risen to the top, turning his rap career into a business...
Read More
When a Chicago grocer sought to elbow into a Michael Jordan moment and score points for itself, the basketball superstar showed that he could throw down in a court of law as well as on the hard wood, getting an appellate court...
Read More
A tale of Hollywood love has ended in a cat fight from the grave — this clawing concerning the right of publicity by booming baritone Bing Crosby, the legendary music, film, television and radio superstar. His relationship...
Read More
A depiction of a buffed up Albert Einstein does not provide grounds for a lawsuit, U.S. District...
Read More
Josh Wattles, an adjunct faculty member at Southwestern Law School and adviser in chief to...
Read More
Delebs — dead celebrities — are a thriving business.  Authentic Brands Group purchased...
Read More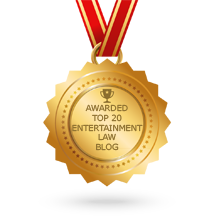 The Biederman Blog is now ranked NUMBER ONE on Feedspot's Top 20 Entertainment Law blogs (May 2018). It is very exciting to top this list. We are extra proud of number six - Entertainment Law Offices of Gordon P. Firemark. Mr. Firemark graduated from Southwestern in 1992, and is a top entertainment blogger and webinar presenter in addition to being a world class entertainment attorney!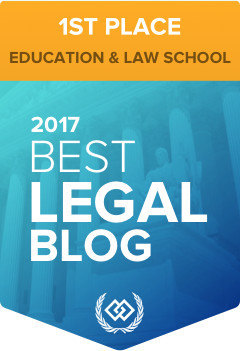 This is Southwestern Law School
—a history of public service, innovative teachers, brilliant scholars, and trailblazing alumni.
Events Calendar