Category: Privacy
Posted by Biederman Blog Editors | Jan 8, 2018 | Copyright, Film, Intellectual Property, International, Licensing, Privacy, Procedural, Regulatory, Social Media, Sports, Talent Representation, Technology, Television, Video, Video Games, Web Services | 0 |
Uncle Sam took out his regulatory stick recently and rapped the knuckles of a Hong Kong toy...
Read More
by Biederman Blog Editors | Jan 8, 2018 | Copyright, Film, Intellectual Property, International, Licensing, Privacy, Procedural, Regulatory, Social Media, Sports, Talent Representation, Technology, Television, Video, Video Games, Web Services | 0 |
The Media Law Resource Center and Southwestern Law School have hosted for 15 years the...
Read More
This guest post was contributed by Natalie M. Reynoso, a second-year Southwestern Law School...
Read More
He's the real-life ax murderer who keeps acting like a terrifying character in a Hollywood slasher movie, popping up repeatedly at inopportune times in scary fashion. Yes, he's baaack: Christopher Porco, convicted of...
Read More
Although the adage holds that "it's never polite to ask a lady her age," in Hollywood, the very point of view captured in that aphorism has itself become a new flashpoint. That's because women, unions, politicians,...
Read More
This guest post was contributed by a blog alumna, and a newly graduated Southwestern juris doctor,...
Read More
Have the pernicious copyright-related practices of the Prenda law firm finally come to an end? Judges on the U.S. Ninth Circuit Court of Appeals have bench-slapped  the firm as sternly as can be, with a recent decision affirming...
Read More
This guest post was written by Jason D. Knight, a Southwestern 2016 juris doctorate candidate. As...
Read More
This guest post was written by Jason D. Knight, a Southwestern 2016 juris doctorate candidate. Hollywood was sky high just six months ago when federal regulators recognized the need to support the industry's global leadership by...
Read More
The European Court of Justice has ruled that the Criminal Justice (Terrorist Offences) Act 2005, which required all telecommunications providers to retain telephone and Internet metadata, violated the privacy rights of...
Read More
Hollywood has no choice but to engage with its audiences as part of its efforts to confront...
Read More
Well, yeah, it's Friday, and the most overpowering issue to be dealt with may be tamping down the urge to hit that door to flee for the weekend. But here's something legal and a little strong — or at least the...
Read More
After wrangling among celebrities, news organizations and even the movie industry itself, the Golden State has decided to give stars an even greater private space, in this case new protections from Hollywood photographers, nee...
Read More
A&E and Gangland Productions, two television production comapnies, can't find shelter under the First Amendment from a lawsuit by a police informant whose identity was disclosed in a documentary, possibly...
Read More
It's simple: approach a celebrity, don't expect the interaction to be private. That's one takeaway from a decision by the U.S. Court of Appeals for the Seventh Circuit in Chicago, affirming  the dismissal by a...
Read More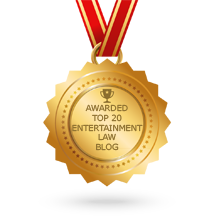 The Biederman Blog is now ranked NUMBER ONE on Feedspot's Top 20 Entertainment Law blogs (May 2018). It is very exciting to top this list. We are extra proud of number six - Entertainment Law Offices of Gordon P. Firemark. Mr. Firemark graduated from Southwestern in 1992, and is a top entertainment blogger and webinar presenter in addition to being a world class entertainment attorney!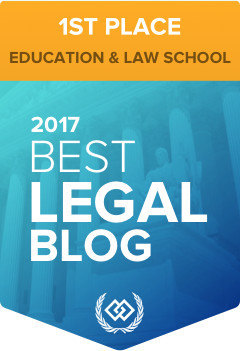 This is Southwestern Law School
—a history of public service, innovative teachers, brilliant scholars, and trailblazing alumni.
Events Calendar