Category:
Music
Nathan Apodaca, also known as 420doggface208 on the popular social media video site TikTok,...
Read More
A trio of federal appellate judges in New York have taken a rare role typically reserved for...
Read More
*Editors note: This post was updated (see below) on Nov. 12, 2018: In recent years, courts,...
Read More
Johann Sebastian Bach may have died 268 years ago, but does legal discord still prevail over the...
Read More
The King of Pop may have died a decade ago but his legacy of litigation lives on, as a California...
Read More
William Leonard Roberts II has kept lawyers and judges busy with his apparent identity crisis,...
Read More
Sho' Nuff, some music publishers still may have a financial reckoning ahead with a trio who...
Read More
The Egyptians' and their empire, culture, and world views so enthralled the ancient world...
Read More
There are far fewer blurred lines now for Robin Thicke and Pharrell Williams after the U.S....
Read More
It may be true, as some songs have averred, that playas gon play, and haters, they gonna hate. But...
Read More
Bit coins and other crypto currencies? For already financially struggling creatives seeking ways...
Read More
Nae, slappin? Dinnae talk mince. I'll gie ye a skelpit lug! the fandan in Manhattan (a U.S....
Read More
Ruby, my dear, the man himself might have said 'Round midnight, these cats aren't...
Read More
Thomas McClary, Lionel Richie, William King, Walter Orange, and other students from...
Read More
Empire — say the word aloud and it conjures multiple pop-culture references, many from the movies....
Read More
This guest post was contributed by Natalie M. Reynoso, a second-year Southwestern Law School...
Read More
by Victoria Carthorn | Nov 6, 2017 | Copyright, Film, Intellectual Property, Licensing, Music, Performance, Right of publicity, Talent Representation, Technology, Video | 0 |
Sadly, they're long gone — but, no wait, they're back! Some pop musical legends have...
Read More
This guest post was contributed by Anne M. Lum, a student in Southwestern Law School's SCALE...
Read More
It has become an anthem of liberation and a hymn of hope and peaceful resistance. And though the...
Read More
The music industry has been abuzz and ablaze for months now after Robin Thicke and Farrell...
Read More
With billions of dollars at stake, celebrities' lawyers have been beating down the door at a...
Read More
Artists may relish that copyrights last for decades. But do they consider sufficiently their...
Read More
An internet service provider, weary of hearing complaints from a music rights-management...
Read More
A costly infringement case may be pushing songwriters to consider legal options, adding credits and sharing royalties rather than litigating. Is it stifling creativity, too? Have legal concerns grown so Thicke that songwriters...
Read More
Justices decline case contesting net providers' 'safe harbor' protections for pre-'72 music...
Read More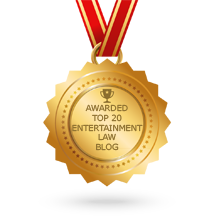 The Biederman Blog is now ranked NUMBER ONE on Feedspot's Top 20 Entertainment Law blogs (May 2018). It is very exciting to top this list. We are extra proud of number six - Entertainment Law Offices of Gordon P. Firemark. Mr. Firemark graduated from Southwestern in 1992, and is a top entertainment blogger and webinar presenter in addition to being a world class entertainment attorney!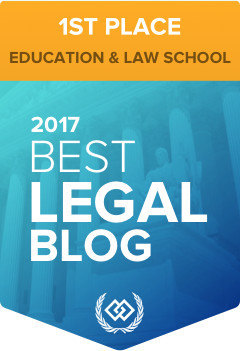 This is Southwestern Law School
—a history of public service, innovative teachers, brilliant scholars, and trailblazing alumni.
Events Calendar