Category: International
Posted by Biederman Blog Editors | Jan 8, 2018 | Copyright, Film, Intellectual Property, International, Licensing, Privacy, Procedural, Regulatory, Social Media, Sports, Talent Representation, Technology, Television, Video, Video Games, Web Services | 0 |
With blood, sweat, and tears, a quartet of California artists pursued their vision, winning over...
Read More
The Egyptians' and their empire, culture, and world views so enthralled the ancient world...
Read More
by Biederman Blog Editors | Jan 8, 2018 | Copyright, Film, Intellectual Property, International, Licensing, Privacy, Procedural, Regulatory, Social Media, Sports, Talent Representation, Technology, Television, Video, Video Games, Web Services | 0 |
The Media Law Resource Center and Southwestern Law School have hosted for 15 years the...
Read More
This guest post was contributed by Anne M. Lum, a student in Southwestern Law School's SCALE...
Read More
Copyright violations can occur too readily and for makers' improper advantage when razzle-dazzle...
Read More
Court advances claim that U.S. television show may have infringed on Spanish hit Timing's...
Read More
In artists' battles to terminate, recover copyrights, $750-million Beatles catalog's a...
Read More
If you're looking for a way to stay up to date in easy, convenient fashion with key...
Read More
by Biederman Blog Editors | Nov 23, 2016 | Copyright, Film, Intellectual Property, International, Licensing, Music, Talent Representation, Television, Video, Video Games, Writing | 0 |
Southwestern Law School has announced that faculty members Neil Ollivierra and Robert Lind will serve as the new co-directors of the nationally recognized Biederman Entertainment and Media Law Institute. Lind is a Southwestern...
Read More
Is it time to say goodbye to cable companies' set-top transmission boxes, the monthly charges that come with them, and a possible entertainment content choke point? The FCC has approved a Notice of Proposed Rule Making to...
Read More
Oh, that baby never seems to stop dancing, does he? The U.S. Ninth Circuit Court of Appeals, en banc, has released an amended opinion and dissent in the "Dancing Baby" case aka Lenz v. Universal Music Corp, which this blog has...
Read More
Entertainment Law practitioners in the United States don't all that often see their clients involved in libel cases involving the nation's top political leaders, thanks to decisions like New York Times v Sullivan....
Read More
This guest post is by Ravyn O'Neal, a member of the Fall '15, Southwestern Entertainment Law and Web 2.0 class. If copyright laws seek to prevent unauthorized lifting of an artist's intellectual property, what...
Read More
Although some entertainment industry types may belittle Los Angeles and insist that they can do business on their own terms elsewhere, all too many paths lead to and through what boosters blushingly have dubbed the Entertainment...
Read More
He never took a copyright nor a trademark course in law school, he said, and he intended to practice in the international or educational areas. A clerkship with a judge persuaded him he didn't want to be a litigator. At...
Read More
Five years after striking two deals valued at the time at $300 million to finance 10 films to be made with his company Rainstorm,  Steven G. Kaplan has won a California appellate decision affirming a private arbitrator's...
Read More
The U.S. Trade Representative recently released its annual Notorious Market List, which calls out markets where the infringing of intellectual property is most problematic and where markets themselves enable "substantial...
Read More
In a world in which consumers can access movies in multiple ways — including with on-demand streaming services like Netflix or through cable or satellite providers and on an array of devices and locations –movie...
Read More
The European Court of Justice has ruled that the Criminal Justice (Terrorist Offences) Act 2005, which required all telecommunications providers to retain telephone and Internet metadata, violated the privacy rights of...
Read More
The Court of Justice of the European Union has ruled that Internet Service Providers in Europe legally may block piracy sites. The decision came in a case involving Constatintin Film and Wega, two movie production companies that...
Read More
In the copyright battles among television networks and Internet Service Providers, the Court of Appeals in Spain has found that YouTube is sheltered from liability by the hosting, safe harbor in Article 16 of the Spanish...
Read More
The Court of Justice, the European Union's highest judicial body, has ruled that the authorization of the rights holder is not required to link freely available copyrighted information from one site to another. The case,...
Read More
Winter is coming! exclaimed Amedia, a Russian film company that signed a five-year output deal with HBO, giving it exclusive rights to some of the most popular series of the U.S. cable network: Game of Thrones (which features a...
Read More
When a recent presidential aspirant jested about his grasp of international affairs and whether he knew, gotcha, the name of the leader of Uz-Beki-Beki-Stan-Stan, music and entertainment industry officials had to flinch more...
Read More
Well, a federal court in Los Angeles may need to get up and stand up for a new music-related trial because the U.S. Court of Appeals for the Ninth Circuit has fought for the right of Rock River Communications Inc. to get...
Read More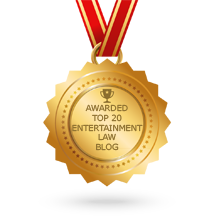 The Biederman Blog is now ranked NUMBER ONE on Feedspot's Top 20 Entertainment Law blogs (May 2018). It is very exciting to top this list. We are extra proud of number six - Entertainment Law Offices of Gordon P. Firemark. Mr. Firemark graduated from Southwestern in 1992, and is a top entertainment blogger and webinar presenter in addition to being a world class entertainment attorney!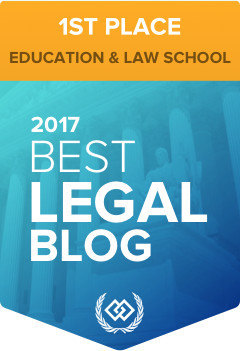 This is Southwestern Law School
—a history of public service, innovative teachers, brilliant scholars, and trailblazing alumni.
Events Calendar